Overview: Games are powerful training tools for leaders. Like children, adults are hard-wired to learn through play. Skilled leadership coaches can apply play-based approaches to self-assessment, direction setting, and concrete leadership skill development.
---
Play-based learning is one of the most effective ways of developing inquisitive, innovative, and creative mindsets. Through plain teaching, children and adults can learn what's already known, but learning through play engages the mind differently. It involves many variables, developing knowledge as well as our socio-emotional side.
In addition to expanding their understanding of the world, children who learn through play develop problem-solving and perspective-taking skills, negotiation, cooperation, and role-taking skills.
There's a reason why positive early childhood experiences translate to better problem solving and stress handling later in life. Growing up to be a successful adult means, in many ways, becoming a successful leader of one's own life. Like success in life, intelligent leadership is a multi-faceted challenge that requires academic knowledge and emotional and social skills.
Learning Through Play Never Goes Out of Style
Humans have a natural propensity for learning through play. Even as adults, we find playful exercises more engaging than dry lectures.
Playful learning lends itself well to leadership coaching and development. It helps leaders perform better and develops the leadership skills of those not currently in leadership positions. The core leadership skills playful learning can improve are:
Problem solving
Effective group management
Active listening
In addition to developing specific leadership skills, leaders can play games with their teams that give them practical techniques and tools they can use.
Games in the Leadership Coaching Process
Executive coaching programs and wider-scope leadership development can use games as part of the training process. Games can help leaders perform self-assessment, an integral part of the executive coaching process. This is a great way to set a baseline as many formal solutions exist for self-assessment, but playful assessment can yield more genuine and relevant results in addition to being more fun.
When coaching leaders, games represent a great starting point for coaches. Games can also be useful for determining a development direction and addressing some of the leadership gaps of the trainees.
Leadership Activities That Facilitate Assessment and Development
Leadership games may focus on decision-making, building company cultures, and improving work environments. They can also focus on improving collaboration, facilitating personal development, improving communication, setting values, etc.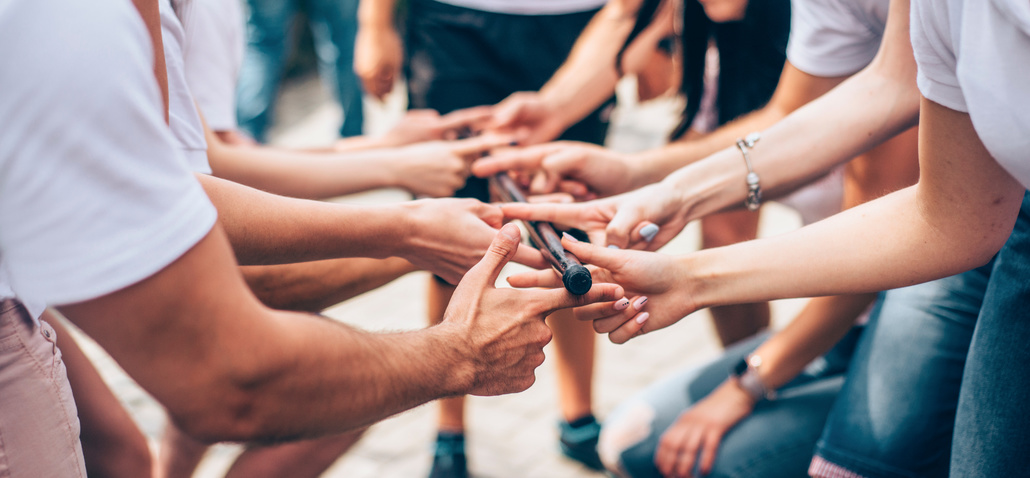 Dotmocracy
Dotmocracy is an exercise in democratic, vote-based decision-making. It can fine-tune the decision-making skills of a leader while improving the engagement of the team.
The game allows leaders to make informed decisions based on input from their teams. Team-based decision-making often yields many possible solutions to problems and presents leaders with conundrums.
With Dotmocracy, leaders give team members dots representing votes. A team then votes using the dots. The option receiving the most votes is the one the team sees as the most viable. Leaders can intervene to break ties.
Circles of Influence
This game is an example of a cooperation-focused leadership activity. Its goal is to establish the strengths of team members and areas where their skills can make significant impacts.
Circles of Influence uses a chart signifying influence circles and post-its participants can use to define internal and external factors that meaningfully affect them. Participants place their post-it notes on the chart in the circle of influence or circle of concern. The team discusses each entry contributing opinions and perspectives.
Team of Two
Team of Two focuses on leaders' interpersonal communication skills. Whether they head small teams or hundreds of employees, leaders often resort to one-on-one interpersonal discussions to iron out problems, find solutions, and draw or provide inspiration.
The game helps leaders and employees build meaningful relationships and articulate needs and expectations. Efficient communication is a top leadership skill.
Using games to lend a fun twist to leadership development workshops can improve engagement, results, and leadership coaching ROI. Through games, executive coaches can target every leadership skill and every aspect of the leadership coaching process.
Contact us to learn more about how you can join the IL Movement as a coach or how you can benefit from partnering with us to bring IL Solutions to you and your organization.