START YOUR IL JOURNEY WITH
OUR BESTSELLING BOOKS
THE EXECUTIVE COACH'S HANDBOOK
inside secrets from the world's top executive coach
#1 Amazon Best-Selling New Release in Multiple Categories
Amazon Best-Seller (2022)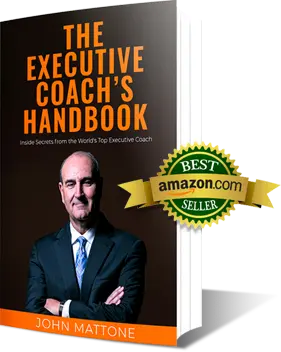 The Executive Coach's Handbook offers practical wisdom and hard won lessons from the world's top executive coach. A blend of both philosophical and practical advice, the book explores the many aspects of the coaching process, from how to pitch yourself as a coach, to dealing with common coaching challenges, to the nuts and bolts of unlocking leadership potential in your clients. Written for both experienced coaches and those who are just starting out, it will inspire, educate, and empower you to be better at what you do. The book is also ideal for managers and leaders who are trying to be better coaches as part of their jobs.
John Mattone has worked with more than 250 executives, including the late Steve Jobs and former PepsiCo CEO Roger Enrico, to help them become stronger, more effective, and vibrant leaders. This book presents a comprehensive guide to launching and sustaining a successful career as an executive coach based on the lessons he has learned during his illustrious career.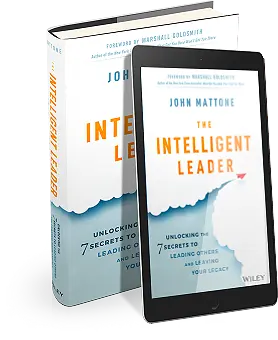 The INTELLIGENT LEADER
UNLOCKING THE 7 SECRETS TO LEADING OTHERS AND LEAVING YOUR LEGACY
Forbes as the #1 Holiday Book of 2020
#1 Amazon Best-Selling New Release in Multiple Categories
Amazon Best-Seller (2020)
Soundview Best Book of 2020
49th Best Leadership Book of All Time-Bookauthority.org
In today's business world, we find ourselves in a conundrum: all businesses crave superior leadership, yet there remain relatively few truly great leaders. While there have never been so many books, blogs, speakers, and seminars on leadership, global organizations are finding that the supply of leadership talent is significantly lagging the supply of raw intellectual horsepower. And companies are having difficulty finding and grooming the next generation of leaders to handle the fiercely competitive atmosphere and lightning-fast pace of change that defines our era.
John Mattone has found a solution to this leadership paradox and developed an approach that cuts right to the core of what holds leaders and aspiring leaders back from greatness. It's what has made him the world top executive coaches, the "coach of coaches," and what has drawn Fortune 500 CEOs—from the late Steve Jobs to PepsiCo's Roger Enrico—to seek his counsel. And fortunately for the business world, Mattone's secrets are no longer being shared exclusively in boardrooms and executive suites, but are now available to anyone who wants to unlock their leadership potential in his book, The Intelligent Leader.
BOOKS FROM OUR
INTERNATIONAL PARTNERS
BUILD TO OUTPERFORM
UNCHAIN AND UNLEASH A HIGH PERFORMING TEAM
Align strategies to their personal aspirations of becoming leaders
Understand what a high performing team is and why must one cultivate the culture of high performance
Build a high performing team right from the hiring stage
Sustain and retain high performing teams
Understand the importance of coaching, mentoring and line of succession
Engage and motivate virtual teams in this new, virtual era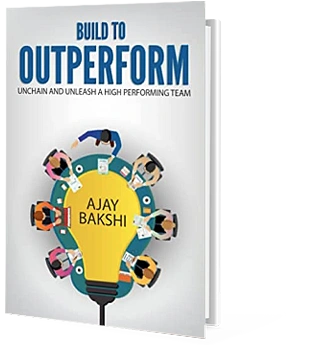 This book is a one stop guide for leaders to: Identify current gaps and future gaps in leadership.
Ajay Bakshi, Senior HR thought leader, discloses how he has been successfully cultivating high performance in teams. With relevant case studies and personal anecdotes, this book is a source of inspiration for all sorts of aspiring leaders ranging from management students, law school graduates, business school graduates to Corporate Leads, CEO, Head of HR, CFO, head of sales and marketing and even political parties and political leaders. This book intends to help various business organizations, educational institutions, and even various economies build sustainable leadership. If you are an aspiring leader, look nowhere else. This book will be your go-to guide and a helping hand on your journey to success.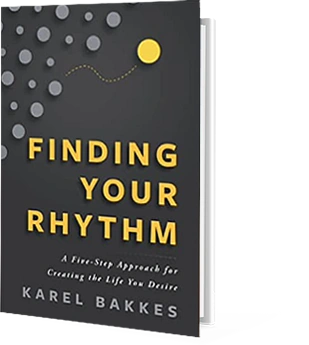 FINDING YOUR RHYTHM
A FIVE-STEP APPROACH FOR CREATING THE LIFE YOU DESIRE
With a comprehensive five-step approach, Finding Your Rhythm will teach you to:
Find your rhythm and listen to it
Identify your vision and create a plan to change
Take action and make lifelong changes
Why do people stay in relationships or jobs that make them unhappy? Learn how to embrace your own rhythm and start living the life you were meant to live!
Whether you are midcareer, in a job or relationship rut, or looking forward to a new chapter, Finding Your Rhythm has something for you. It's time to say goodbye to the status quo and write your own story.
A global Gallup poll concluded that a shocking 85 percent of people are unhappy in their jobs and over 60 percent of people are unhappy in their relationships. Have you had similar experiences yourself but aren't sure how to change this pattern? Using rhythm as a metaphor, this book examines why you may remain stuck in situations that make you unhappy and what steps you can take to free yourself from this pattern and start living a life that brings you joy.
INTO THE WILD
CREATING A COACHING CULTURE AT THE WORKPLACE
Welcome to the WILD Company!
Written in two parts, The WILD Company fable in the first section recounts a situation and how a change in culture allows for coaching conversations to take root and flourish. The characters in the fable are like the people we encounter at the workplace; or we may even see ourselves as one of them too. Their story is one that we see happening around us every day. But it is also a story of hope – that a company's transformation from a toxic culture to a coaching culture is possible with the right approach.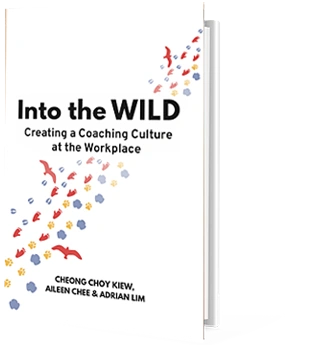 In the second section, be introduced to The WILD Framework, a four-step system that leaders can adopt to start their own journey to create a coaching culture at the workplace. Discover how to create awareness of the need to change, identify the gaps, learn a new language, then deploy this change to all concerned.
Are you ready to step Into the WILD?