WHAT MAKES THIS LEADERSHIP RETREAT UNIQUE?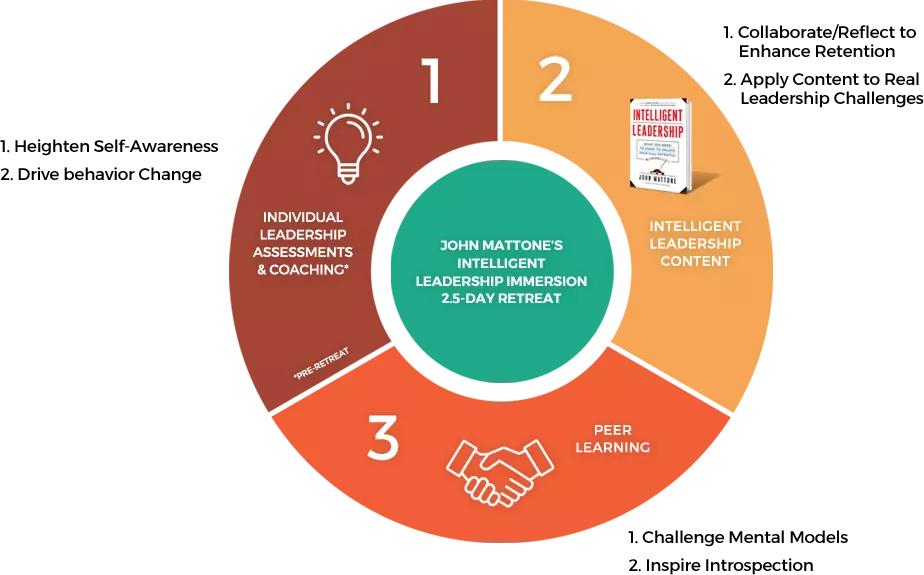 Immersive, personalized leadership development experience leveraging IL's coaching and content, peer learning, and deep personal introspection.
Team building beyond the classroom: intimate peer-to-peer and action-learning event.
Explore and discover your Core Purpose and translate this learning into actionable steps that ignites your full potential.
Discover the strength and vibrancy of your inner core and learn to translate this learning into driving greatness in your outer core (how the world sees you).
Map your own leadership style to the traits on the Wheel of Intelligent Leadership.
Take the powerful Mattone Leadership Enneagram Inventory (MLEI), to uncover the leadership traits that are working for you and against you.
Optional: Supplement your MLEI results with the California Psychological Inventory-260 (CPI-260) and John's proprietary Strategic-Tactical Leadership Index-360 (STLI-360).
Debrief your MLEI results (as well as your CPI-260 and STLI-360 if this option is selected) in a private executive coaching debrief session with your IL Executive Coach.
Exit with a full Individual Leadership Development Plan (ILDP) and roadmap for leveraging your leadership gifts and addressing your gaps.
Complete the immersive experience with IL's proprietary post-retreat private coaching session and stakeholder survey, LeaderWatch, to measure your leadership improvement and debrief your survey results with your IL Coach.
Retreat includes pre-program assessments, coaching sessions, tools and resources, all program materials, and copy of John's bestseller, The Intelligent Leader.
AGENDA
Pre-Retreat | Assessment & Executive Coaching
Prior to entering the retreat, all participants will take the proprietary Mattone Leadership Inventory Assessment – a powerful leadership assessment tool that builds the framework and roadmap for exploring and distinguishing the executive maturity of your "inner-core."
Participants will be scheduled for a 1-hr private Executive Coaching session to debrief on the assessment results and gain an understanding of individual leadership maturity and your unique leadership footprint.
DAY 1 – Roadmap to Leadership Success
How you need to think (and act) differently towards leadership in a VUCA (volatile, uncertain, chaotic, ambiguous) world.
Day 1 will focus on how you can become a role model of leadership, gauging your level of executive maturity, understanding the "Wheel of Intelligent Leadership" and pull it all together into your own leadership framework.
AM Session
Your Leadership Success Roadmap
Understanding Your "Inner" & "Outer Core" in More Depth
PM Session
Understanding the "Map of Executive Maturity"
DAY 2 – Peer Learning Activities
Learning is retained through collaborative critique and application to real-life situations.
AM Session
Your Leadership Story – a Peer Learning Activity
Understanding Your Leadership Inventory Results
PM Session
Building Your Predominant Traits – a Peer Learning Activity
Building Your Least Mature Trait -a Peer Learning Activity Homework
Attendees will prepare an Individual Leadership Development Plan (ILDP) using the insight gained from Day 1 of the workshop assessment results, peer learning, feedback from your IL Executive Coach, and reflection throughout the retreat.
DAY 3 – Individual Development Areas
Leadership strengths, development and action-plans are finely-tuned.
AM Session
ILDP Presentations and Debrief
ILDP Key Learnings
Post-retreat Accountability and Sharing with Key Stakeholders Retreat Conclusion | Presentation of Certificates
3 Months Post-Retreat: Measuring ROI and Retreat Impact Using IL's LeaderWatch® Survey
Accountability for leadership growth and development through stakeholder involvement and feedback.